Skincare tips & advice
What's the Ideal Cleanser for Your Skin Type?
A facial cleanser is the foundation of any skincare regimen, and this basic but essential product sets the stage for products that follow. Yet face washes are not one-size-fits-all, and it's important to know your specific skin type so you can choose the formula that gives your skin the ingredients it needs while helping to avoid unwanted side effects.
Overview
The primary goal of cleansing is to remove makeup, dirt and excess oil from the skin, but this initial skincare step also provides an opportunity to get additional benefits from specific ingredients that can enhance your complexion's overall health and appearance. The ideal facial cleanser formula depends on your skin type, which can change from season to season and even fluctuate based on hormonal or environmental factors (such as traveling to a climate your skin is unaccustomed to). The five main skin types are normal, dry, oily, combination and sensitive. There are several facial cleanser options for each, and you can choose based on your texture preferences as well.
Common misconceptions about cleansing
Cleansing is not an essential skincare step
If skin feels tight after washing, that means it's thoroughly clean
Cleansing more than twice a day and after working out can help improve acne
You don't need to adjust your cleanser based on seasonal changes in weather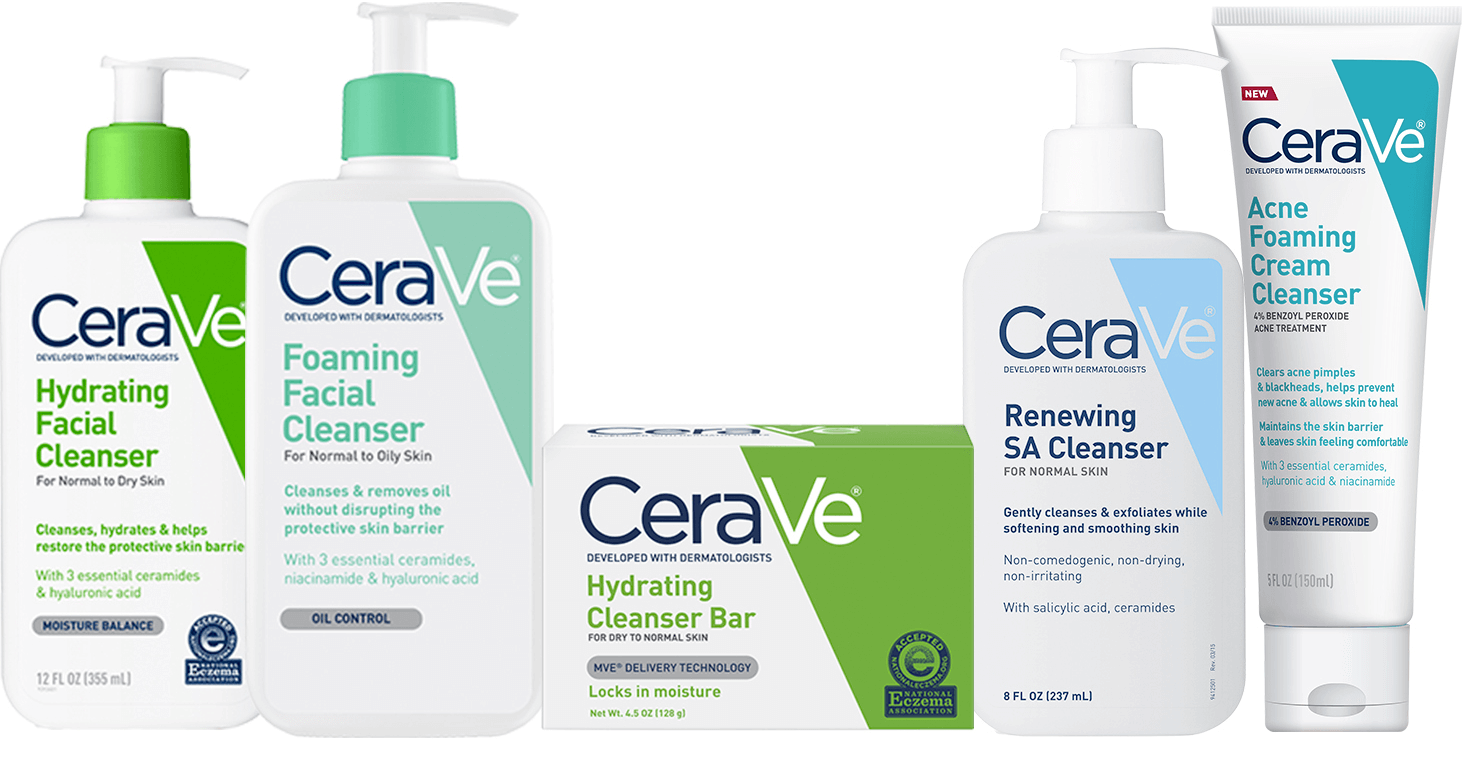 When choosing a facial cleanser, the options can be overwhelming, but knowing your skin type makes it easy to narrow down your choices. Cleansing is about more than simply washing away dirt, makeup and excess oil, and this important skincare step can help address your skin's unique concerns and needs. Consider these skin type basics:
Normal skin: This skin type doesn't experience excess dryness or oiliness, and is generally free of visible pores, acne and sensitivity.

Dry skin: Skin is considered dry when it lacks water and natural oils. This skin type may have rough texture, visible lines and wrinkles, dullness, and loss of elasticity, as well as increased sensitivity and a tight, uncomfortable feel.

Browse our facial cleansers for dry skin

Oily skin: Oily skin produces too much sebum, and is likely to experience enlarged pores, blackheads, pimples and unwanted shine.

Browse our facial cleansers for oily skin

Combination skin: This skin type has areas of dryness and areas of oiliness. It's common to have dullness and rough texture in some spots and enlarged pores, blackheads and shine in others (especially around the nose, chin and forehead).

Browse our facial cleansers for combination skin

Sensitive skin: Sensitive skin types tend to react to external factors, including skincare. Signs of sensitive skin can include stinging, burning and redness.

Browse our facial cleansers for sensitive skin

Types of facial cleansers
Once you understand your skin type, it's a lot easier to select the proper facial cleanser—and in most cases all you have to do is read the bottle. A vast majority of face washes clearly state the skin types they are designed for right on the label, so keep this is mind while you're shopping. This applies to the wide variety of available facial cleanser options, and you may find you prefer one type in the morning, another at night and potentially a different formula for the gym or when you're on the go. Regardless of the facial cleanser you choose, a product that contains ceramides can help ensure effective cleansing without disrupting the skin's barrier

A gel facial cleanser effectively removes makeup as well as dirt and excess oil, and these lightweight formulas generally produce lather. Gel facial cleansers can be formulated with additional ingredients like hyaluronic acid for hydration, and our Renewing SA Cleanser features salicylic acid for gentle exfoliation—but it's important to look for a mild gel facial cleanser that doesn't strip the skin of its natural oils.
Skin types: Normal, oily, sensitive

In addition to effective removal of makeup, dirt and excess oil, these face wash options offer moisturizing and soothing benefits with a comforting texture. Depending on the product, lotion and cream facial cleansers may provide a lather, and these formulas can also target specific skin concerns such as dryness with the addition of hyaluronic acid, or acne with ingredients like benzoyl peroxide, which can be found in our Acne Foaming Cream Cleanser.
For those with sensitive skin, our Hydrating Facial Cleanser's mild lotion formula may be the most suitable option.
Skin types: Normal, dry, oily, sensitive

Facial cleansers can deliver different levels of lather, from mild bubbling to full-on foam. Foaming cleansers can begin as a gel or cream, and these face washes—including our Foaming Facial Cleanser—provide cleansing and makeup removal, rinse off easily and leave skin feeling smooth and soft.
Skin types: Normal, oily, sensitive

Effective cleansing doesn't necessarily require water or rinsing, and our Hydrating Micellar Cleanser can clear the skin of excess oil, dirt and makeup without leaving the skin feeling stripped or disrupting the skin barrier. This type of cleanser features molecules called micelles that act like magnets to trap dirt and oil without the need to rinse. Suitable for delicate skin around the eye area as well, a micellar water with barrier-restoring ceramides and soothing niacinamide is easy to use both at home and whenever conventional water-based cleansing isn't an option.
Skin types: Normal, dry, oily, combination, sensitive

Sometimes you just want to wipe your way to clean skin or get a jump-start on makeup removal whether at home or on the go, and our Makeup Removing Cleansing Cloths are an almost-effortless way to do it—with no sink required. Offering the power to remove makeup while being gentle on the skin, these rinse-free towelettes provide hydrating hyaluronic acid and barrier-strengthening ceramides as well.
Skin types: Normal, dry, oily, combination, sensitive

There's a big difference between "soap" and a facial cleanser that comes in a bar. Our soap-free, moisturizer-infused Hydrating Cleanser Bar can offer effective removal of makeup, dirt and excess oil while being gentle on the skin, along with hydrating hyaluronic acid and barrier-reinforcing ceramides in a familiar, easy-to-use form.
Skin types: Normal, dry, sensitive
Stay Informed On All Things Skincare
Sign up to receive information about new products, skincare routines, tips, and special offers.*
*By submitting this form, I confirm I am a US resident, 16+, and (1) agree to CeraVe's Terms of Use and to receive marketing and promotional communications from CeraVe and other L'Oréal brands, and (2) have read and acknowledge the CeraVe's Privacy Notice and Notice of Financial Incentives. CeraVe uses personal information it collects and processes to provide you tailored and personalized content, advertisements, offers, and other marketing and promotional communications (including promotional emails) from CeraVe and other L'Oréal brands, including based on your beauty profile, and for other purposes listed in CeraVe's Privacy Policy

Captcha validation failed.