Acne
Clear Skin: Why You Need a Skincare Routine for Acne
The first step towards clearing blemishes and helping to prevent new breakouts is to adopt an acne skincare routine that includes gentle, yet effective products with proven ingredients. Learn more about how the right acne routine can help keep your skin appearing clear, healthy, and hydrated.
Overview
Acne can lead to more than just pimples. Some acne treatment products, for example, can cause irritation and leave your skin appearing red and flaky. And although a potent product may help visibly clear the acne blemish, the associated irritation may lead you to question which is worse: the acne or the skin irritation. However, it's important to remember that acne treatments can vary greatly, and that acne is not a one-size-fits all skin concern. With the right information and the help of your dermatologist, it's possible to build a gentle acne-prone skincare routine that nourishes, hydrates, and helps maintain your skin's protective barrier. Keep reading to discover our acne skincare routine for clear, healthy-looking skin.
Tips for acne-prone skin
Minimize flare-ups by being consistent with your acne skincare routine. Choose non-comedogenic products that address multiple acne-related skin concerns—like post-acne marks, enlarged pores, and uneven skin texture.
Take care of your skin day and night by using skincare products designed specifically for each time of day, such as daytime and nighttime face moisturizers.
Everyone's acne is unique and there are multiple types of acne blemishes that may require different treatments. Always consult with a board-certified dermatologist for the best personalized recommendations based on your skin type and acne type.
What Is Acne?
Acne is a common skin condition that affects an estimated 9.4% of the world's population.1 According to John Hopkins, acne is defined as "a disorder of the hair follicles and oil glands (sebaceous glands)."2 It can occur at any age but typically starts affecting teens during puberty, with approximately 85% of 18-24 year-olds experiencing some form of acne.3 Although acne breakouts can occur anywhere on the body, they tend to show up on the face, chest, shoulders, and upper back.
How Is Acne Formed?
Your body's sebaceous glands produce natural oils (sebum) that are normally released through your hair follicles. When these follicles become clogged by dead skin cells and sebum, it can trigger the growth of skin bacteria. This bacteria, also known as Propionibacterium acnes (or P. acnes), causes inflammation—creating what are known as inflammatory acne lesions. Discover more about each type of acne in our guide to understanding and treating different types of acne, including blackheads, whiteheads, papules, pustules, nodules, and cysts.
What Are the Main Causes of Acne?
The four main causes of acne, according to the Mayo Clinic, are inflammation, clogged hair follicles, bacteria, and excess sebum in the skin.4 These primary causes can be influenced by genetics, as well as various lifestyle and environmental factors. Such factors can include stress, high humidity levels, and hormonal changes. Certain medications and dietary choices may also play a role in acne breakouts. It's important not to scrub your skin harshly or squeeze pimples, as this can also worsen acne.

When it comes to the causes of acne, there are many myths and misconceptions to be aware of—including the myth that chocolate and greasy foods trigger acne. Learn more from board-certified dermatologist Dr. Ted Lain in Acne Facts & Fiction: Part 1.
How Can I Start Clearing My Acne Blemishes?
One of the best ways to keep acne-prone skin clear is with a comprehensive acne skincare routine that incorporates gentle, yet effective formulas with targeted ingredients. The ideal skincare regimen for acne-prone skin should be built around your skin type, acne type, and overall complexion goals. For pimples, whiteheads, and blackheads, we recommend ingredients like benzoyl peroxide, which can help minimize acne-causing bacteria. Another opinion is salicylic acid, which helps prevent your pores from becoming clogged with oil and dead skin cells. Because using more than one acne treatment product can increase the likelihood of irritation, we recommend starting slowly and paying attention to how your skin responds.
Should I moisturize my face if I have acne-prone skin?
If you have acne-prone skin, it may feel oily and greasy. However, just because acne-prone skin may produce more natural oils, this doesn't mean that it requires any less moisture than other types of skin. Applying a face moisturizer daily after cleansing can help hydrate skin and prevent it from becoming dry or irritated when using certain acne treatments. When your skin is dry, it may actually trigger an increase in oil production, potentially triggering new breakouts. We recommend choosing a non-comedogenic moisturizer that's specially formulated for acne-prone skin to help keep your skin properly hydrated without clogging your pores.
A Simple Skincare Routine for Acne-Prone Skin
A simple acne-prone skincare routine can help by visibly clearing existing blemishes and helping to prevent new ones from forming. Plus, with the right products, you can also reduce or help prevent some acne-related concerns—like dryness and post-acne marks—while simultaneously helping to protect your skin from the sun.
When using topical acne products, it's important to always follow application with a broad-spectrum sunscreen, especially before going outside. If irritation or sensitivity develops, stop use of both the acne product and the sunscreen and consult your doctor.

To address the needs of acne-prone skin, we're sharing an easy, yet comprehensive acne skincare routine below. Here are CeraVe's essential steps to follow in a facial skincare routine for acne: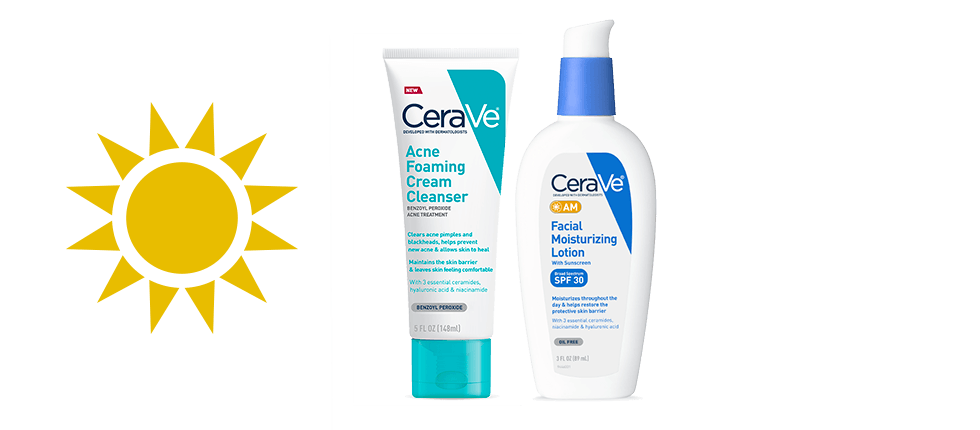 MORNING ROUTINE
Step 1: Cleanse and treat
Cleansing should be the first step in every skincare routine, regardless of your skin type or skin concerns. CeraVe's Acne Foaming Cream Cleanser with 4% benzoyl peroxide is formulated to thoroughly dissolve dirt and excess oil while clearing acne and allowing your skin to heal. An effective first step in any acne routine, this gentle cleanser—formulated with three essential ceramides, hyaluronic acid, and niacinamide—helps maintain your skin's protective barrier. It leaves your skin feeling soft and comfortable, while reducing acne without dryness or flaking.
Step 2: Moisturize and protect
Just like the Acne Foaming Cream Cleanser, CeraVe's AM Facial Moisturizing Lotion with Sunscreen features three essential ceramides, hydrating hyaluronic acid, and niacinamide to supply your skin with much-needed moisture throughout the day. This face moisturizer also provides broad-spectrum SPF 30 sunscreen to help protect your skin from damaging UVA and UVB rays. Daily sun protection is crucial for all types of skin, including those who are acne-prone. This is especially important when using exfoliating acne treatment products, since removing the uppermost layer of dead cells can leave skin more vulnerable to damage from the sun's UV rays, according to the Skin Cancer Foundation.5 Our AM Facial Moisturizing Lotion is also non-comedogenic, so it won't clog your pores.
NIGHT ROUTINE
Step 1: Cleanse and treat
Use CeraVe's Acne Foaming Cream Cleanser once more in the evening to help clear acne, help prevent new blemishes from forming, and allow your skin to heal.
Step 2: Improve skin texture with retinol
CeraVe Resurfacing Retinol Serum will help smooth and improve your skin's texture by reducing the appearance of post-acne marks, minimizing the look of pores, and refining your skin's surface. In addition to encapsulated retinol, which helps resurface your skin, this lightweight, fast-absorbing serum is also formulated with licorice root extract, niacinamide, and three essential ceramides. If discomfort occurs during the first application, try spacing out applications until your skin adjusts.
Step 3: Moisturize
One common myth is that people with acne-prone skin should avoid moisturizing after cleansing to avoid triggering a breakout. In reality, not moisturizing can lead your skin to compensate by overproducing sebum, which is the opposite of what you want if you have an oily or acne-prone skin type.
Designed to continually deliver much-needed moisture to your skin throughout the night, CeraVe PM Facial Moisturizing Lotion features three essential ceramides, hyaluronic acid, and niacinamide. This rich, yet lightweight night cream is developed with dermatologists and is non-comedogenic, so that it won't clog your pores. Use this face moisturizer nightly to help hydrate, calm, and soothe your skin, while also helping to maintain your protective skin barrier.
The consistent use of a skincare routine for acne is the perfect way to get your skin back on track. With the right ingredients and targeted skincare products for acne, you can help minimize acne flare-ups, as well as treat existing acne breakouts. But remember: Acne treatments can take some time to work, and it's possible for blemishes to temporarily appear worse before getting better (sometimes known as "skin purging"). A board-certified dermatologist can help answer any questions you may have.
For help choosing the right products for your specific skin type and concerns, use our Find My Skincare Solution tool.
Stay Informed On All Things Skincare
Sign up to receive information about new products, skincare routines, tips, and special offers.*
*By submitting this form, I confirm I am a US resident, 16+, and (1) agree to CeraVe's Terms of Use and to receive marketing and promotional communications from CeraVe and other L'Oréal brands, and (2) have read and acknowledge the CeraVe's Privacy Notice and Notice of Financial Incentives. CeraVe uses personal information it collects and processes to provide you tailored and personalized content, advertisements, offers, and other marketing and promotional communications (including promotional emails) from CeraVe and other L'Oréal brands, including based on your beauty profile, and for other purposes listed in CeraVe's Privacy Policy

Captcha validation failed.