Skincare tips & advice
Body moisturizers play a key role in any skincare regimen for healthy-looking skin. They help to hydrate your skin, seal in moisture, and may even help maintain your skin's protective barrier. Moisturizing your body is just as important as applying face moisturizer, but unfortunately, many people make the avoidable mistake of skipping this skincare step altogether. That's why we've teamed up with board-certified dermatologists from CeraVe's Advisory Board to share their expertise—including when to moisturize, how often to moisturize, and how to choose a body moisturizer to meet your skin's needs. Plus, we share five essential​ body moisturizing tips below.
Overview
As the experts of the skincare world, board-certified dermatologists are trained to understand your skin better than anyone else. They can help identify skin issues, treat various skin concerns, and provide advice on skincare routines and products—including body moisturizers for all types of skin. In this guide, we're sharing some of the best practices for body moisturizing that dermatologists often recommend to their patients. Ahead, learn how to choose the right body moisturizer for your skin's needs and support smooth, soft, and hydrated skin that looks and feels its best.
BODY MOISTURIZING TIPS
1. USE A MOISTURIZER WITH CERAMIDES
"Ceramides, which are essential lipids found naturally in skin, play a crucial role in [maintaining] a healthy skin barrier," explains board-certified dermatologist Dr. Jenny Liu. "When ceramide levels are reduced, it can lead to dry and irritated skin." According to Dr. Liu, using hydrating moisturizers containing ceramides " can help to [hydrate] dry and irritated skin and support moisture barrier function." When you hydrate and reduce further water loss, you give a damaged skin barrier time to heal. Learn more about ceramide's important role in maintaining your protective skin barrier in our ceramides skincare guide.
2. CHOOSE THE RIGHT TEXTURE FOR YOUR SKIN TYPE AND CONCERNS
Moisturizers are not a one-size-fits-all skincare product. They come in many different forms—such as creams, lotions, and ointments—that can vary greatly in their textures, ingredients, and intended uses. In order to find the right type of moisturizer for your skin, you'll need to consider your current routine, environment, and skincare goals.

Next, you'll also want to look for moisturizers that are formulated with active ingredients that can help target your main skin concerns. If you're concerned about rough and bumpy skin, for example, you could choose a moisturizer option like CeraVe Salicylic Acid Lotion for Rough & Bumpy Skin. With salicylic acid and lactic acid, this lightweight lotion formula helps gently exfoliate dead skin cells and smooth skin's texture. Another option that can help soften very dry, rough skin is CeraVe Salicylic Acid Cream for Rough & Bumpy Skin. Or, for those looking for a moisturizer option that helps with skin itching, scaling, redness, flaking, and irritation associated with psoriasis, we recommend CeraVe Psoriasis Moisturizing Cream.

Next, to help you choose the right texture for your skin's needs, here are some of the key differences between lotions, creams, and ointments:
Lotions: Lotions have a slightly creamy texture but contain more water than creams. They are generally described as lightweight and easy for your skin to absorb. Since body lotions are formulated with more water content than creams, they can be an effective moisturizer option for many types of skin.
Creams: These moisturizers usually have a richer consistency than lotion formulas. Because they often feature emolients as a key ingredient, creams tend to have a thicker texture that is well-suited for dry skin types, mature skin, and seasonal dryness during the winter.
Ointments: When comparing ointment vs cream vs lotion, ointments have the thickest texture. Ointments, such as CeraVe Healing Ointment, are typically considered a therapeutic moisturizer option for temporarily protecting and relieving very dry, chafed, chapped, or cracked skin. They often feature ingredients like petrolatum, which has a rich, jelly-like texture, and function primarily as occlusives. This means that, rather than being absorbed, ointments form a protective barrier on top of your skin that seals in moisture.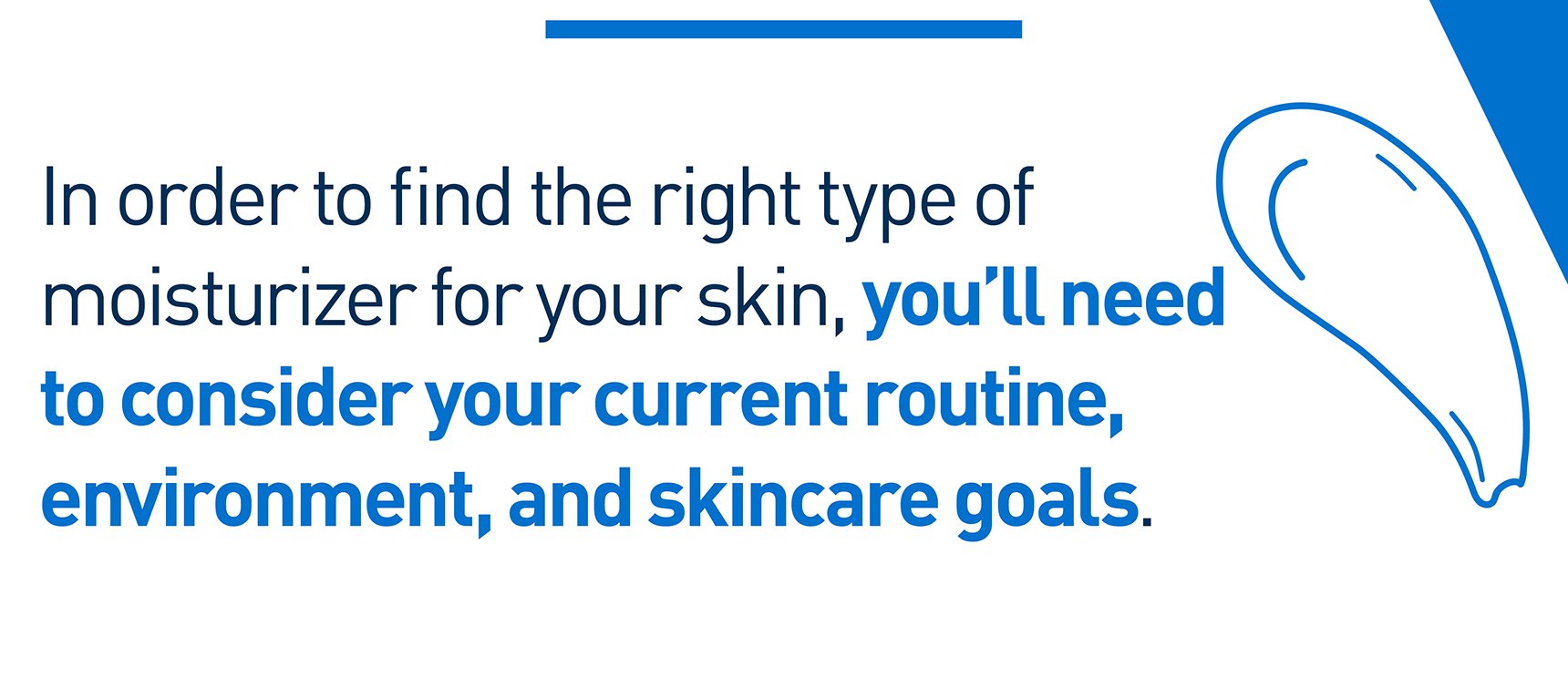 3. MOISTURIZE EVERY DAY
All skincare products require consistency in order to reap their full benefits—including moisturizer. "It's huge to make moisturizing a routine, just like brushing your teeth—morning and night," says board-certified dermatologist Dr. Daniel Sugai. Moisturizing your body twice per day can help keep your skin properly hydrated and nourished and help prevent dryness. Daily moisturizing is just as important when you're on-the-go or traveling, according to Dr. Sugai. He recommends bringing your preferred moisturizer with you when you travel, "so you can stick with something you're used to, to respect the skin barrier."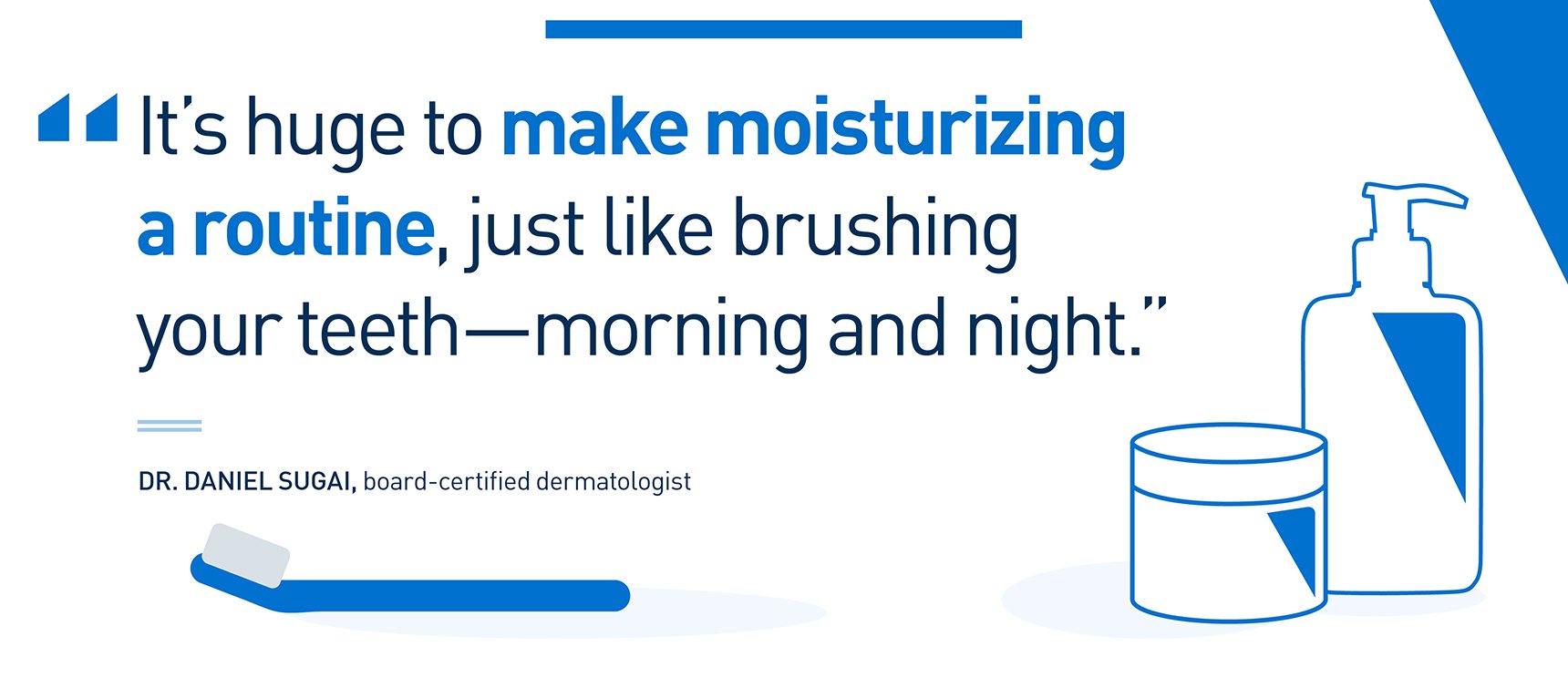 4. MOISTURIZE ON CLEAN, DAMP SKIN
To help prevent water loss, dermatologists often recommend applying moisturizer to clean, slightly damp skin immediately after bathing. "Moisturizing after showering? It's all about locking in that moisture," says Dr. Daniel Sugai. When your skin is slightly damp, it can help moisturizers work more effectively at hydrating your skin and sealing in moisture. To get the most out of your moisturizing regimen, you'll also want to avoid bathing habits that can potentially dry out or irritate your skin. "Make sure that showers are not long and hot," says board-certified dermatologist Dr. Adeline Kikam, "because that can actually strip the skin of moisture."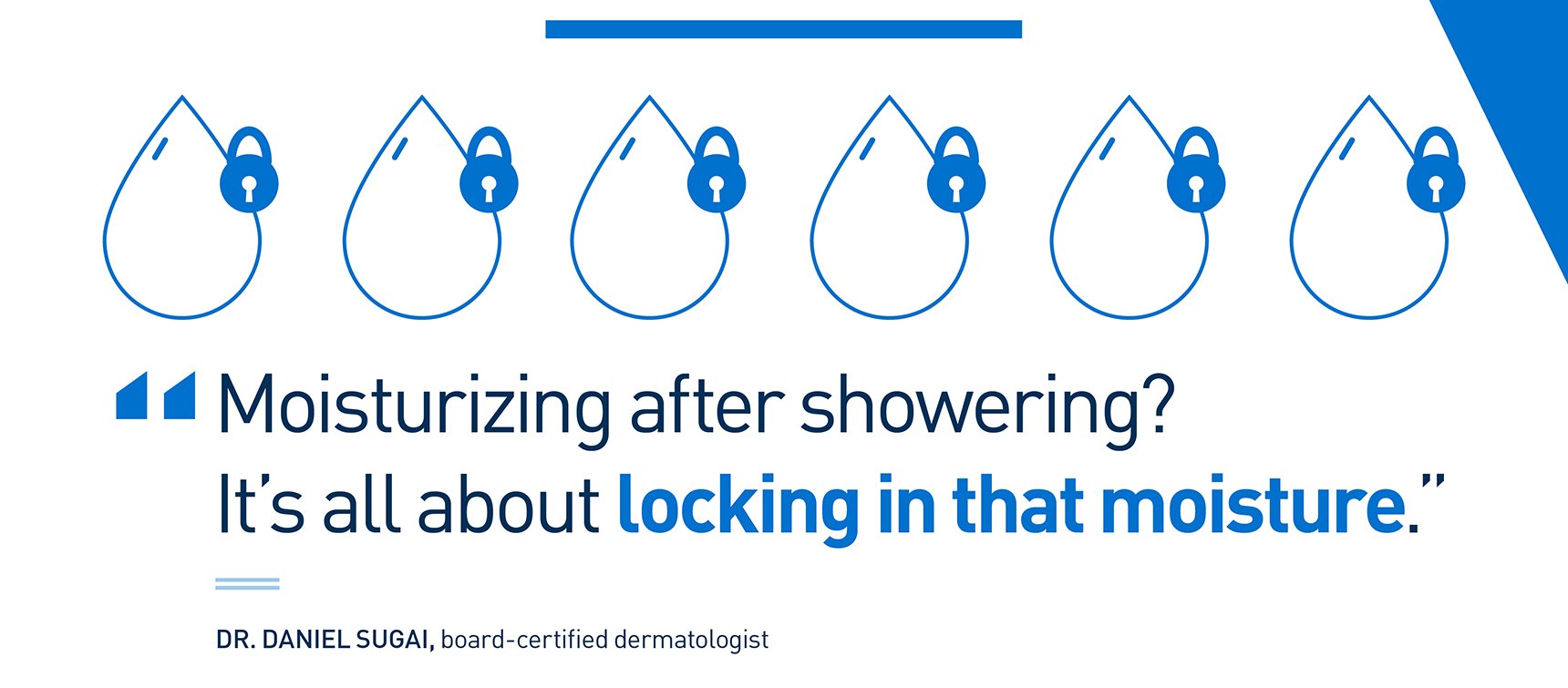 5. MOISTURIZE YOUR FACE AND BODY
As Dr. Adeline Kikam puts it: "You take care of your face, but what about the skin all over your body?" In other words, your moisturizing routine should provide just as much TLC and nourishment to the skin below your neck as it does the skin above it. "Moisturizing all over keeps skin [looking] healthy—even the less visible bits," says Dr. Kikam. Remember to pay careful attention to the areas of your body that may be more prone to dryness, like your hands, feet, knees, and elbows.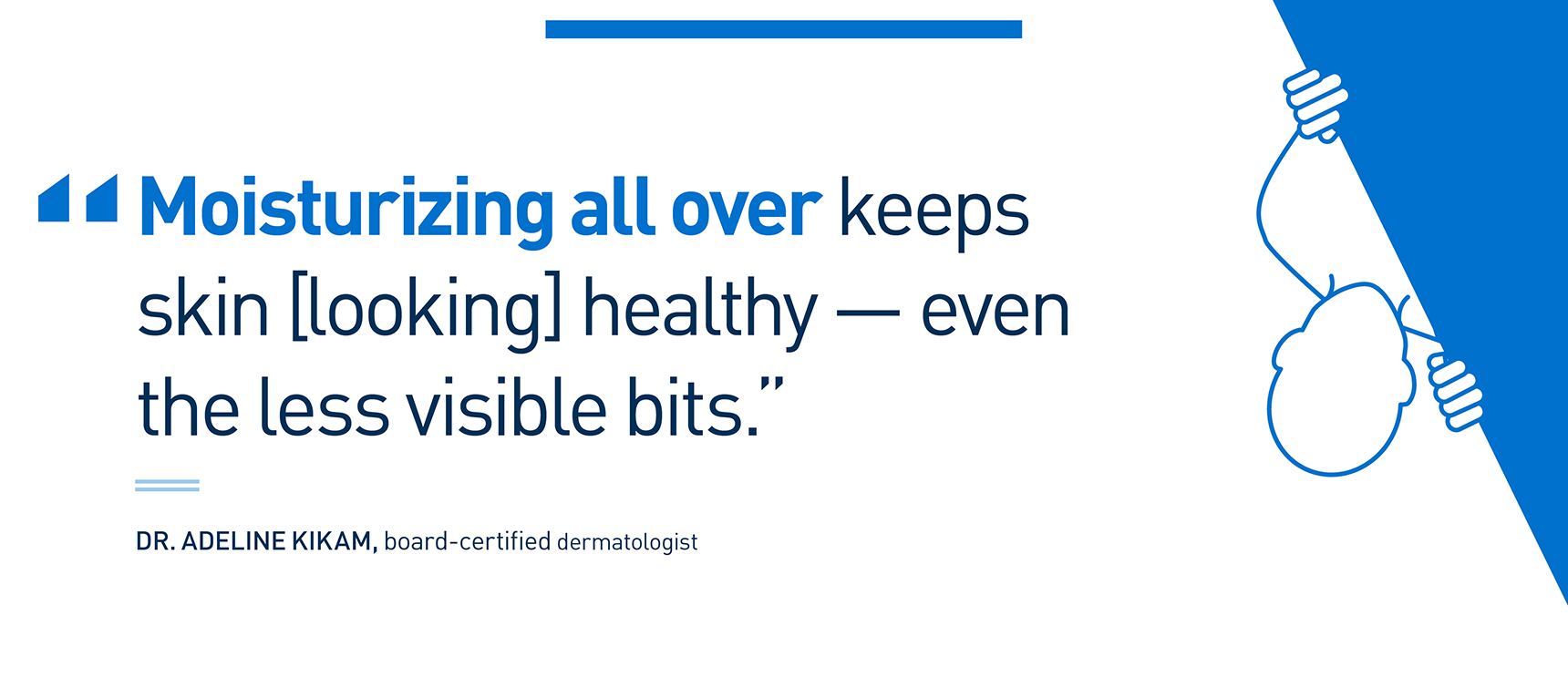 Frequently Asked Questions
WHAT DOES A MOISTURIZER DO?

Moisturizers are skincare products that are designed primarily to help prevent or address dry skin. They achieve this in two ways: delivering moisture directly to the surface layer of your skin and sealing in moisture by creating a protective barrier. Some serve just one of these functions, while others work in both ways.

Many moisturizing products feature a combination of ingredients that work to achieve multiple benefits at the same time, such as CeraVe Moisturizing Cream. Formulated with three essential ceramides and hyaluronic acid, this fragrance-free, fast-absorbing moisturizing cream helps to lock in skin's moisture and help restore your skin's protective barrier.

WHAT ARE THE DIFFERENT TYPES OF MOISTURIZING INGREDIENTS?

There are three main types of ingredients found in moisturizers: occlusives, emollients, and humectants. Emollients contain a mixture of oil and water and work to help soften and smooth the skin. Occlusives (such as petrolatum) work by forming a protective layer that locks in moisture and helps prevent water from evaporating off your skin. Humectants (such as hyaluronic acid) attract and hold moisture in your skin.

CeraVe's hydrating moisturizers feature these barrier-supporting ingredients—in addition to our three essential ceramides—that help maintain your skin's protective barrier. This protective barrier is essential for skin health, as it keeps much-needed moisture in and external irritants out. Learn more about the science of ceramides in The Ceramides Difference.

WHY IS MOISTURIZING IMPORTANT?

All skin types require adequate moisture to keep their skin looking smooth, radiant, and healthy. Like Dr. Jenny Liu mentioned above, skin that feels dry, itchy, and uncomfortable is associated with issues such as ceramide deficiency and water loss. Dry skin is also indicative of disrupted skin barrier function. "Itchy, dry inflammatory conditions result from deficiencies in the skin's barrier," leading to water loss, explains Dr. Daniel Sugai. Using a well-formulated moisturizer consistently can support skin's overall appearance and help maintain a healthy skin barrier."

WHAT SKIN-HYDRATING INGREDIENTS SHOULD YOU LOOK FOR IN BODY CARE?

Choosing a well-formulated product is the key to getting the most out of the skin-hydrating ingredients found in moisturizers. CeraVe moisturizers are formulated with a combination of skin-soothing, hydrating ingredients to help support smooth, comfortable-feeling skin. This includes three essential ceramides, as well as hyaluronic acid, glycerin, and petrolatum. All of our dermatologist-recommended moisturizers are fragrance-free, allergy-tested, and expertly-developed to help maintain your skin's protective barrier.

WHEN'S THE RIGHT TIME TO APPLY MOISTURIZER?

Moisturizer should be used daily as part of your skincare regimen, and as needed when your skin is feeling dry. According to the American Academy of Dermatology, the most important time to apply moisturizer is immediately after bathing or washing your hands.1 Carrying a moisturizing, non-greasy hand cream to use after hand washing is one helpful way to help prevent dry hands when you're on-the-go, such as CeraVe Therapeutic Hand Cream.

HOW MUCH BODY MOISTURIZER SHOULD I USE?

The ideal amount of body moisturizer will vary depending on your product's consistency and the area you're moisturizing. Applying a body lotion to your entire body post-shower will require you to cover more surface area than when using a hand cream, for example. Water-based body lotions generally have a thinner consistency than rich-textured body creams, which typically allows them to spread easily and cover more areas with less product.

Whether you're applying body lotion, hand cream, or foot cream, you'll want to apply a generous amount to fully cover the intended area and distribute evenly. Always apply moisturizers by following the instructions on the product's packaging for best results, or as recommended by your doctor.

WHY IS MY SKIN DRY EVEN WHEN I MOISTURIZE?

Dry skin on your body can have many possible causes that may not always be resolved by moisturizing alone. If you experience chronic dry skin that is flaky, scaly, painful, or cracked, it's important to consult with a board-certified dermatologist, as this may be a sign of an underlying illness or skin condition.

Learn more about how to build a body care routine using CeraVe's dermatologist-recommended moisturizers, cleansers, and more: CeraVe Solutions: A Body Care Routine for Dry Skin
Stay Informed On All Things Skincare
Sign up to receive information about new products, skincare routines, tips, and special offers.*
*By submitting this form, I confirm I am a US resident, 16+, and (1) agree to CeraVe's Terms of Use and to receive marketing and promotional communications from CeraVe and other L'Oréal brands, and (2) have read and acknowledge the CeraVe's Privacy Notice and Notice of Financial Incentives. CeraVe uses personal information it collects and processes to provide you tailored and personalized content, advertisements, offers, and other marketing and promotional communications (including promotional emails) from CeraVe and other L'Oréal brands, including based on your beauty profile, and for other purposes listed in CeraVe's Privacy Policy

Captcha validation failed.